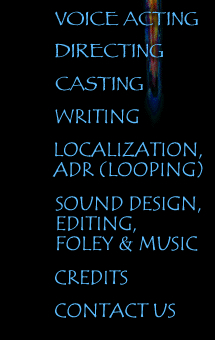 We direct the finalists for the finest performances. No amateur cattle-calls. Auditions are organized by character and by using your script; these samples give you the easiest way to select your preferences. Using talent demos to choose is limiting and may disappoint later.

Need a famous star or how about someone who sounds just like them? We'll get what you want within your budget. What's even better is that we can cast multi-talented actors who save time and money by doing more than one part.

Leave the one-trick ponies in someone else's stable. That's why we're AudioGodz.

We've got scads of interesting character voices, different accents, kids and adults who sound like them, corporate and narrative voices, and all varieties of ages, races and roles.

Save time, money and trouble!



TV, RADIO, FILM, CARTOONS, COMPUTER GAMES, CORPORATE, EDUCATIONAL & TRAINING PRODUCTIONS, MESSAGES ON HOLD, TALKING BOOKS


Whatever your needs, let us do the footwork and we'll get you the best!



RESUME: Over 400 titles (All platforms)




All materials Copyright ©2002-2009, AudioGodz. All rights reserved.
Website Designed by Digital Sourcery.