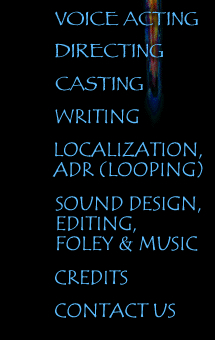 There's nothing more useless than a director saying "I need more ennui," "I don't hear the angst," and, our favorite, "Could you just do it different?"

We say to hell with that crap! Our director is an actor and knows how to impart their vast alien vocal and acting abilities to draw out the best performances possible.

Amazing results! The best expletives and "deaths" anywhere. Our ad-libs kick ass.



Over 400 titles (All platforms) -- PARTIAL CREDITS LIST




All materials Copyright ©2002-2009, AudioGodz. All rights reserved.
Website Designed by Digital Sourcery.