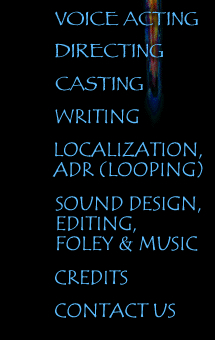 Let us put words in your mouth. We're great at localization and ADR (Audio Dialogue Replacement). Having Americanized several languages including British, Japanese, Hungarian, Danish, Italian, Spanish, and more, we don't just change the language, you get the best acting along with it.

We're capable of delivering the final product in any format you desire with a quick turnaround. The sky is no limit for AudioGodz. Need a customized crowd chanting specific cheers or taunts? You won't find that on a sound effects library.

Our creativity soars with every new project and we welcome you aboard. It's a fantastic trip you'll want to repeat.



RESUME: Over 400 titles (All platforms)




All materials Copyright ©2002-2009, AudioGodz. All rights reserved.
Website Designed by Digital Sourcery.