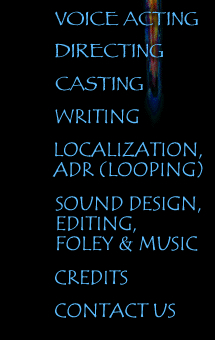 Whether you're after a space odyssey, original oddity, teeth-clencher, heart gripper, jingle or tingle, you've come to the right place. Titillate your cochlea with our secret sound sauce. One byte -- you'll be hooked.

From Pro-Tools to Sound Forge, using the latest studio technology, we provide a full service one-stop shop. Working with worldwide clients, our studios offer phone patches, Source Connect, ipDTL, Zoom, Skype and more, editing in any format with quick turnaround.

From original composition to editable sound libraries, we've got what you want at a price you can afford. Our musician talent pool includes famous recording artists and film-score composers.

We've got the best imagination and the tools needed to produce whatever sound effects you need, from a snortling grump-sucker to a black hole implosion with a side order of spew. Oh yes, we've got plenty of sound libraries, but we also do it LIVE! Why sound like everybody else's SFX library?



RESUME: Over 400 titles (All platforms)




All materials Copyright ©2002-2009, AudioGodz. All rights reserved.
Website Designed by Digital Sourcery.