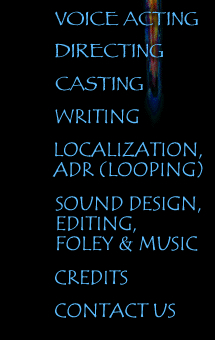 Experience our limitless talent pool of multi-voiced people. We can get any star in the world or very convincing sound-alikes. All ages, accents and styles. From realism to fantasy, cartoons to humor, educational, military sims to shooters, racing to sports titles, we do it all. The utmost attention is given to creativity, detail and ultimate quality.

Don't you want to be better than everybody else? We do!

Union and non-union professionals. No hidden fees! Looping (Audio Dialogue Replacement), localization and post-production available.



RESUME: Over 400 titles (All platforms)




All materials Copyright ©2002-2009, AudioGodz. All rights reserved.
Website Designed by Digital Sourcery.