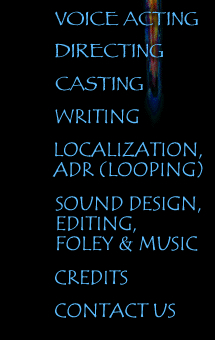 A piece of work is only as good as the script, and man, have we seen some really smelly swatches of scribbling out there. Fear not! We are here to rescue you from the dull, boring and politically correct pablum. A bad script can make even a great actor sound bad, even with the best direction. If we can tweak your script for spoken word and make it bring more individuality and persona to the part, the difference is phenomenal!

Years of experience in improv, copywriting, authoring, degrees in English---agh!, and a whacked-out razor-sharp imagination are hereby at your disposal to sizzle up your script, proposal, advertisement, marketing, presentation, your loneliness and need for stimulation (just checking). Did we mention we don't have ego problems either? Let's write it right the first time.



RESUME: Over 400 titles (All platforms)




All materials Copyright ©2002-2009, AudioGodz. All rights reserved.
Website Designed by Digital Sourcery.