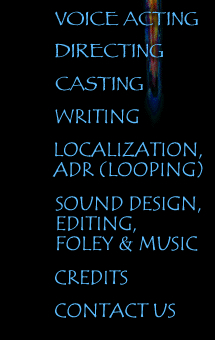 "The greatest! Legendary! Simply the best!"

-- Rex Baca, Manager of Sports Audio
Sony Computer Entertainment
www.scea.com



"I can't recommend them enough. Top notch folks, They understand the process and 10 out of 10 times deliver the goods!"

-- Cliff Bleszinski
Lead Designer, Epic Games
www.cliffyb.com
www.planetunreal.com/cliffyb



"Lani assisted my team on some very difficult audio generation for a major console title while I was heading up Universal Interactive. I found her to be personable, really take an interest in the work, and delivery high quality assets in a timely fashion. I would not hesitate to work with Lani again."

-- Vijay Lakshman
President/Founder, Brilliant Entertainment
www.brilliantentertainment.net
Since 1992, AudioGodz has produced award-winning sounds for clients worldwide. They're thrilled to have found us and keep coming back for more.

Just ask any of our hundreds of clients and their subdevelopers including:

Disney, Sony, Nintendo, Electronic Arts (EA), Microsoft, Target, Warner Brothers Animation, Klasky Chupo, Nokia, NBC, ABC, CBS, Fox, Mercedes, Nissan, Toyota, Harley Davidson, Ford, GM, Yamaha, Panasonic, American Express, Universal Studios, MGM/UA, Amblin, Dreamworks, Paramount, Time Warner, Discovery Channel, PBS, Hewlett Packard, Xerox, Blizzard, Ubisoft, Sierra, LEGO, Vivendi, Sega, Health Net, Quiksilver, Billabong, LA Gear, Verizon, Energizer, 7-Up, Sav-on, AT&T, THQ, Mattel, Fisher-Price, Hasbro, Acclaim, Marvel, Bally Gaming, Pacific and Mann Theatres, Major Hotels and Health Chains, Universities, TDK MediaActive, Konami, Eidos and National Geographic, to name a few.


Our worldwide talent pool of professional multi-voiced actors are directed by an alien intelligence who illuminates their performances with vision and dynamic direction unlike anything you've ever heard before.

Titillate your cochlea with famous stars, sound-alikes, creatures, accents, any age -- any species, combined with superior direction, spoken word scripting and kick-ass ad-libs.






Having fun yet? You will.
Check out this animated promo
played in Movie Theaters everywhere.



TV, RADIO, FILM, ANIMATION, COMPUTER GAMES, CORPORATE, EDUCATIONAL & TRAINING PRODUCTIONS, MESSAGES ON HOLD, TALKING BOOKS


Let AudioGodz show you the light.
Master Creators is a title we live up to.

Lani's Interview with the New York Times

Over 500 titles (All platforms) -- PARTIAL CREDITS LIST


Video Game Demo for Lani Minella (1.8MB, MP3)

Non-game demo, just for fun (1.2MB, MP3)

If you don't have an MP3 player,
download the FREE Winamp player



All materials Copyright ©2002-2009, AudioGodz. All rights reserved.
Website Designed by Digital Sourcery.